Royal Malewane, South Africa: Luxury Safari Lodge of Choice for Sarkozy and Carla Bruni
---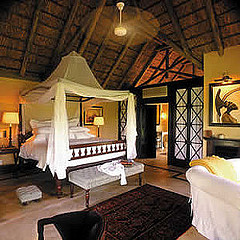 Our spies on the ground in South Africa couldn't help but notice the crew of Secret Service henchmen who recently took over the
Royal Malewane
, named
"Best Safari Lodge"
by Tatler (UK) in 2006. Located on the western edge of Kruger National Park in the heart of South Africa's "Big Five" territory, the Royal Malewane is as posh as they come. After arriving by private helicopter, Sarko and his muse stayed hidden away in their swanky Royal Villa. Though they missed out on the incredible meals served in the lodge (Persian carpets, crystal, silver, fine china and all the plush offerings of a bygone era), we hear they had a private chef on call and some of the best game trackers in South Africa for their exclusive game drives. The
Royal Malewane
accommodates only 20 guests, so anyone who stays there will feel as spoiled as the French
royal
president. Plus, the luxurious lodge is situated on its own private reserve, so don't be surprised to see elephants drinking out of your private plunge pool in the morning.
PS. There's a swanky spa, too.
---