Rooftop Picnicking for Guests at Eden Au Lac Zurich
---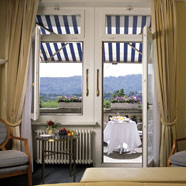 Summer days are upon us and there is no better way to bask in the sunshine and take pleasure in a beautiful day than with an intimate picnic for two.
Eden Au Lac Zurich
offers guests such an opportunity which can be added as a supplement to their stay. The
Picnic with Panorama
option is a decadent experience that allows guests to soak up the picturesque beauty of Lake Zurich while enjoying a rooftop picnic. A delectable variety of cold delicacies, desserts, soft drinks, champagne, and red or white wine are prepared in a gourmet picnic basket and a special carpet is rolled for guests to relax and enjoy their spread. When requested in advance, use of the private sauna adjoining the roof terrace can also be added to the
Picnic with Panorama
experience to top off a leisurely afternoon of terrific food, amazing scenery and excellent company!
---