Ritz-Carlton Jumps on the Bandwagon, Gives Free Nights at European Hotels
---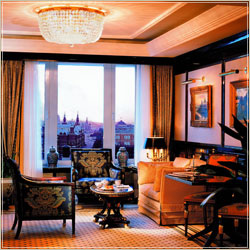 This just in.
Ritz-Carlton Hotels
wants to make sure you get both your money's worth and "memory's worth" when on vacay in Europe this year. Hence the "Peace of Mind" package, which doles out up to 3 complimentary nights along with some other freebies. Here's the skinny on what you get: daily breakfast for two, Internet, and overnight valet parking. Stay for 3 nights, pay for 2 (resorts only); Stay for 5 nights, pay for 3; Stay for 7 nights, pay for 4.
Berlin
,
Barcelona
,
Tenerife
, and
Istanbul
are up for the taking. Even the over-the-top, excessively lavish
Ritz-Carlton Moscow
is in on this offer.
---