Relais Santa Croce: Angelina Jolie and Brad Pitt's Hotel Choice in Florence
---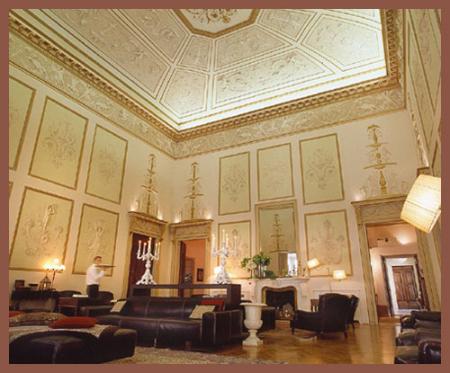 We recently highlighted a tempting offer from the
Relais Santa Croce
in Florence:
Ferrari tours through the Chianti countryside.
Housed in an 18th century palace, this luxury hotel gem-- decorated with ceiling frescoes and period furniture-- is situated between Santa Croce Basilica and the Duomo in the heart of Florence. Now we've got the scoop about some of the A-list clientele who frequent this fine establishment. (Really, it's not hard to see why
Relais Santa Croce
attracts celebs.)
The Travel Editor dishes
:
Flicking through the guest book as I was checking out of the glamorous luxury hotel Relais Santa Croce in Florence, I came across a page with some child's scrawl - I could make out the name Zahara and I realised it was the page signed by the family of Angelina Jolie and Brad Pitt who took over the entire hotel during the filming of the Tourist in March. And if you ever get a chance to have a nose at the palatial suites that occupy the entire piano nobile of this grand palazzo in central Florence, you will see why.

The building was originally commissioned by the Pope's treasurer, Marchese Baldinucci, in the early 1700s and has two imposing granite columns at the entrance that were sent from Rome, and beautiful internal frescos and stuccos. It is considered one of the finest examples of a noble residence in Florence, and is now a five-star luxury hotel with just 24 luxury rooms. Alongside Jolie and Pitt, Kate Moss, Pete Doherty, Burt Bacharach and Depeche Mode are among the glitterati that have kicked off their shoes in their lavish rooms.
---