Recipes from Chef José Andrés of The Bazaar at the SLS Hotel Beverly Hills
---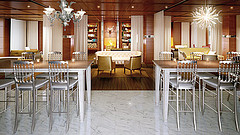 Still suffering food coma from Thanksgiving? Or did a hearty meal only whet your appetite for more culinary adventures this winter? José Andrés, the author, TV star, and celebrity chef behind the Spanish culinary revolution in the U.S., now serves at the helm of an extraordinary new restaurant in
Beverly Hills at the SLS Hotel
, and he's got some recipes to share.
The LA Times has the skinny on his new restaurant:
It's an exuberant experiment in dining, located in the public space of the 11,500-square-foot hotel lobby, with several whimsical dining areas: a cocktail bar and raw bar, a space featuring his tapas as well as cured meats and cheeses, a "patisserie" with a display kitchen and a roving "street food" cart. "Who needs one more chef in one more building with four walls and a kitchen?" Andrés asks.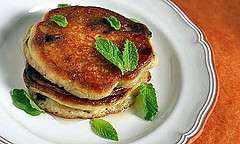 For a morning-after-Thanksgiving extravaganza, try these Olive Oil pancakes, generously studded with Spanish chocolate. (Recipe after the jump.)
Servings 4, Cook time 30 minutes.
Note: To make lemon honey, combine one-fourth cup honey with one-half teaspoon lemon zest in a small saucepan. Steep the honey for several minutes over low heat and strain before using. Spanish chocolate is available at select Ralphs stores and specialty markets.
1 3/4 cups flour
2 tablespoons sugar
2 teaspoons baking powder
1/2 teaspoon baking soda
1/4 teaspoon salt
1 egg, lightly beaten
1 1/2 cups buttermilk
4 tablespoons best-quality olive oil, preferably Spanish, plus more for frying
1/3 cup chopped dark chocolate, preferably Spanish
1/4 cup honey, preferably lemon
Fresh mint leaves
1. In a large bowl, whisk together the flour, sugar, baking powder, baking soda and salt. Whisk in the egg, buttermilk and 2 tablespoons olive oil until the batter is smooth, then stir in the chocolate pieces.
2. Heat the remaining 2 tablespoons of olive oil in a medium sauté pan over medium-low heat. Ladle one-fourth cup of the pancake batter into the pan and cook until golden brown, about 2 minutes. Flip the pancake with a spatula and cook until golden brown on the second side, 1 to 2 more minutes. Place the pancakes in a warm oven until all are cooked and ready to serve. Repeat with the remaining batter, adding more olive oil to the pan as needed.
3. To serve, drizzle the pancakes with honey and garnish with mint.
---