Puerto Rico for Pennies: Water Club Beach Hotel, San Juan
---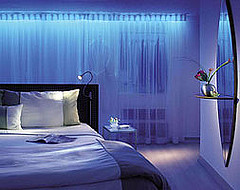 When new rules were established requiring U.S. citizens to carry passports for all Caribbean destinations (then relaxed again, after the worst passport waiting lines in history), savvy travelers avoided all the passport mayhem and booked vacas in Puerto Rico. The U.S. Virgin Islands and Puerto Rico were the only two paradisiacal Caribbean destinations not affected. Old San Juan has been luring and exciting visitors with a renaissance of sorts; one of the oldest cities in the Americas has gotten a dose of South Beach glamour. Louis Vuitton, Gucci and Dior have opened stores along the waterfront in the Condado neighborhood. With the opening of myriad trendy restaurants and clubs, there's a cool vibe in the air.
Liquid
, on the top floor of the
Water Club
hotel, is one of the hottest spots in town. Indeed, the Water Club, named one of the coolest hotels in the world by
Conde Nast Traveler
, embodies South Beach chic. San Juan's only luxury boutique on the beach, the hotel boasts floor to ceiling windows with endless ocean views. Theatrical lighting brings the outdoors indoors; elevators have waterfalls (behind glass); corridor sounds are gentle surf. Doors are made of murano glass, and there are photographs of pebbles instead of corridor carpeting. For such a fabulous hotel,
the rates are surprisingly modest
. With the
"Turn the Page"
package at the
Water Club
, guests are spoiled with library benefits, book selection, free iPod using during their stay, and late check-out--
all for $149 per night
. Valid through September 30, 2007.
---