Presidential Election Themed Packages at Hotels
---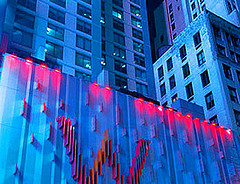 Election fever has prompted hotels to get patriotic with special packages, as we noted with the
Fairmont Copley Plaza's
"Making of a President Package."
But the trend doesn't stop there.
As Travel + Leisure reports
, these presidential promotions are available not just in red and blue states, but in hotels around the globe-- like the
Hotel Concorde La Fayette
in Paris where you can chow down on a "Hawaiian-themed O-Burger" or the "Southwestern-flavored Elephant Burger for the senator from Arizona." Back in the States, W Hotels is inspiring guests to "gear up and show their colors" with the Declare Yourself Package. If you declare yourself red at
W Hotels in New York
, you'll get an Elephant t-shirt, a Republican Vote Tote made of 80 percent recycled cotton canvas and 20 percent recycled plastic soda bottles to help you support your party and contribute to save the planet, the "Declare Yourself" book in which celebrated Americans - from Adrian Grenier to Amber Tamblyn to Alice Walker to Hayden Panettiere - share personal reasons and motivations for voting, plus two 10 Cain Rum cocktails. Or rock your Democrat colors and you'll get donkey gear plus two Obama Pama cocktails.
---