Pillow Menus at the Pullman, Sydney Olympic Park
---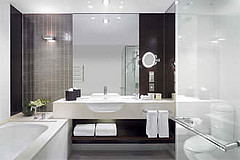 As far as business hotels go, this
new one from the Accor Hotel Group
is pretty sweet. The 212 rooms and suites edge on chic. They've got sweeping city views, all the latest technology, and cutting-edge bathrooms (pictured). This is the first new five-star hotel in Sydney since 2000, situated on Olympic Boulevard, and it was built to be environmentally friendly, featuring solar panels on the roof.
To quote the Sydney Morning Herald
, "there are some seriously good things to do at the park that have nothing to do with faded sporting glory." And ahhhh, the pillow menus. You've got your choice of eight:
The Pullman's luxe pillow is "silky, smooth and plush", the feather-and-down pillow "sumptuously supple". Others promise to align your hips and spine and enhance leg circulation. My favourite: the square pillow, designed for the five-star veg-out - that is, reading and watching TV in bed...
This hotel is in fact part of a new chain of upscale hotels from Accor called Pullman-- named for the luxury trains of yesterday-- dedicated to business travelers and meetings. Accor's planning on 300 Pullman hotels worldwide by 2015.
---