Party Like a Rock Star, Sleep Like a Baby: The Metropolitan, London
---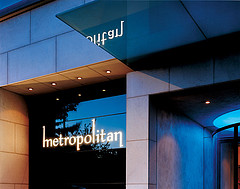 For ten years,
The Metropolitan Hotel
has served as a landmark contemporary address on London's Park Lane. And the hotel still embodies stylish, cutting-edge cool. The hopping Met Bar continues to be a favorite for urban hipsters and fashionistas. The lobby, filled with light and accented with red and fuchsia and a striking carpet from Kappa Lambda that incorporates the Met's rich chocolate browns, is a hotspot for casual meetings. In this high design hotel, floor-to-ceiling windows look out over a glittering skyline. To celebrate these ten years, The Met has unveiled ten new packages. Embrace your inner hedonist with the
Met's
most decadent package,
Party Like a Rock Star, Sleep Like a Baby
. The two-night weekend package is priced from GBP 555 for two sharing a City Room. Arrive to a welcome "Classic Martini," prepped in your in-room cocktail shaker with two chilled glasses. (You'll also get a shaker and a box of rubber coasters.) Get into the swing with a "Metropolitan Party Box" which includes a Hedkandi CD and a "Hangover from Hell" eye mask and Firefly "Sharpen-Up" Tonic for later. Check in with the well-connected concierge to plan your night's revelry, with priority reservations at
Nobu
or
Nahm
. Enjoy complimentary chauffer service to a Central London club followed by a Champagne Breakfast for two back at the hotel, and a late check-out at 4 p.m.
---