Paris Where to Stay, Shop and Pamper Yourself Silly
---
We serve up insider information on the City of Light...
By Jena Tesse Fox and Mary Winston Nicklin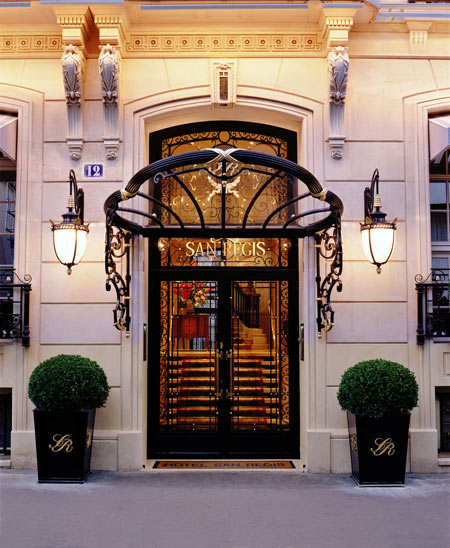 If you've been to the Hotel San Régis, you'll be surprised upon your return. The popular Parisian hotel, located between the Champs-Elysées and Avenue Montaigne in the 8th arrondissement, has just revealed a new look. The Classic Room category has undergone a complete renovation by star designer Pierre-Yves Rochon, with all 10 rooms undergoing a top-to-bottom overhaul.
We love the fresh new fabrics and swell headboards and armchairs but we must say the new bathrooms really do it for us: they're decked out in black-and-white marble, with separate tubs and Italian-style showers. How posh.
Travel agents voted this hotel tops in the Small Luxury Hotels chain last year, so we say how can it be bad?  If you haven't been, it's housed in a 19th-century private mansion.
Insider Secret: Jean-François Chauvin, the "Clefs d'Or" Concierge, is known for handling all manner of requests: limousine transfers, river cruises on private boat, reservations to the hottest restaurants in town, tickets for museum exhibitions or the theater, personal shoppers to discover the city's secret boutiques.
 Shopping
Did you know that Uniqlo has opened its store on rue Scribe in the Opéra district? Needless to say, the Paris press has been buzzing about this global phenomenon, explaining that "it's impossible to leave the store with your hands in your pockets." Chances are, you'll leave with shirts, jeans, leggings, maybe even a puffy jacket. Indeed, a recent article in Hemispheres Magazine describes how "irresistably low prices and an uncanny sense for how the world wants to dress have made Uniqlo's owner the richest man in Japan." At 2,150 square meters, the Parisian flagship store is the third largest for Uniqlo worldwide-- after the New York and London locations. What's the brand's appeal? Perhaps it's the range of colors as plentiful as the Pantone shades, muses A Nous Paris: 35 different options for cashmere sweaters, 60 tints of colorful socks, from cerulean blue to mimosa... And now available: Jil Sander's +J Line at Uniqlo.
Visit http://www.uniqlo.com/us/
Pampering!
 The Ritz Paris is launching a luxury four-day detox program (not that kind, the well-being and slimness kind!) that includes innovative body treatments, fitness activities supervised by trainers and healthy menus created by a nutritionist and especially prepared by Michelin-starred Chef Michel Roth. (Getting healthy was never this much fun!)
Upon arrival, the Ritz Health Club specialists will give each guest a personalized fitness check-up, and then help them select treatments, massages and body conditioning sessions fitted to their exclusive needs.
As a real therapy program combines healthy eating, the Ritz Paris suggests detoxifying menus especially made by a nutritionist and Chef Michel Roth. Guests can enjoy well-balanced dishes adapted to their fitness activities in the swanky settings of the Pool Bar and the Bar Vendôme. Delicious touch: Every day at tea time, a snack of fruits and green tea is served by the pool.
The Luxury Detox program by Ritz Paris includes:
• Accommodation in a Superior room during four nights (Available in every type of rooms and Suites with supplement)
•  Healthy menus made by a nutritionist and Chef Michel Roth (Breakfasts, lunches and dinners – beverages are not included)
•  Personalized fitness check-up with Ritz Health Club trainers
•  A program including Pilates, aqua gym, stretching and Cellu M6 sessions
•  Slimming Detox treatments, draining massages at the Spa
The Detox program as from $7,685 for two people including full board, and is valid until December 20.
 Can't get a reservation at The Ritz? Hôtel Le Bristol Paris is has its own "Well-Being & Beauty" program. offering guests a full-body personalized health program.
This is the real deal, it begins with a workout plan, tailored to your specific needs by Le Bristol's personal trainer, Bruno Fuscien-Trasan, and ends with a visit to the Anne Sémonin Spa for a skin diagnosis and customized facial.
This package is available for $368 and must be booked 10 days in advance. Offer Dates: May 06, 2010 - May 06, 2011
Side Trips
When touring the opulent Chateau de Versailles, 12 miles outside of Paris, you may feel the urge to check into your very own castle (we get that way, too). A royal guest experience is to be had at the Trianon Palace Versailles, part of the Waldorf Astoria Collection. Just a stone's throw from Louis XIV's world famous chateau, this luxury hotel is nestled in gardens recently enhanced by acclaimed landscape designer Louis Benech. The palace hotel is home to a heated indoor pool, Guerlain Spa, and a restaurant by Gordon Ramsay. (It's only fitting that the gastronomically gifted Trianon Palace was the setting for the finale of Top Chef, a smash hit after its first season on the French tube.)
News: The Trianon Palace is feting 100 years in 2010 with a special Anniversary Dinner inspired by an original menu from 1910. Available at Gordon Ramsay au Trianon for €160 per person, the feast features the following dishes: canapés and champagne, chicken velouté à la royale, foie gras in aspic, ham knuckle in jelly, filet of sole Casanova, and lamb à la Bordelaise. The best part of all is the 100th anniversary dessert, "Dôme rouge infidèle façon chocolat." This decadent dessert is also available to all guests celebrating a birthday at the hotel, and to those who indulge in the Anniversary Afternoon Tea.
The party doesn't stop there. The hotel's Sports Club Bar is also in the birthday spirit. "100 Minutes of Happy Hour" takes place every weeknight from 6:30 pm- 8:10 pm, and features drink specials and complimentary tapas specially prepared by the chefs.
In addition, the luxury hotel is offering a special package in honor of its 100th anniversary which can be booked through December 31, 2010. The "Anniversary Package" can be tailored to fit individual preferences, as guests can choose two lavish amenities for an additional €100 per room. The list of amenities includes Afternoon Tea and Cocktails, Guerlain Harmony Foot Bath & Reflexology, Special Children's Welcome, Romantic Experience (champagne, chocolate, and the purchase of a star in the galaxy), The Queen's Treasures ("capture the decadence of Marie-Antoinette with a red rose, delectable macarons, and an exclusive bottle of perfume"), and Secrets of Louis XIV ("live like a king with a bottle of red Cuvée Royale Prestige, a box of macarons, and a copy of the book Women in the Life of Louis XIV.")
---