One of the World's Best Hideaways: Huka Lodge, New Zealand
---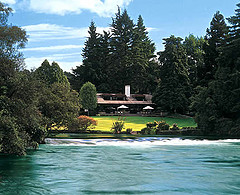 There's a lot of buzz about New Zealand-- above and beyond the publicity generated by the Lord of the Rings flicks. Everyone's talking about this little island nation on the far south end of the Pacific. (Indeed, Conde Nast readers rated the country the #1 holiday destination in the world.) No matter what the season, New Zealand has it all: breathtaking scenery, recreational activities galore, delicious cuisine, and warm hospitality. Easily the best place to stay on this gorgeous island nation is Huka Lodge, located in Taupo, in the central North Island, and considered one of the world's top retreats. This 20 suite lodge has racked up the awards: Travel and Leisure Top 500 list (the only property in New Zealand with this distinction), Conde Nast Traveler "Best Hotel Rooms in Australasia and South Pacific," Andrew Harper's Hideaway Report "Top 20 International Resort Hotels." And if the awards list seems impressive, you should see the famous guest-list. The guestbook reads like the party of the century.
The setting is magical. Situated in a beautifully landscaped park on the banks of the Waikato River, Huka Lodge is just a short walk from the spectacular cascades of Huka Falls. As can be expected, activities run the gamut from tennis to petanque, hiking to trout fishing, mountain biking to relaxing in the hot pools and outdoor spa. Spacious, light guestrooms are complemented by outdoor terraces and bathrooms with under-floor heating and sunken baths.
As described recently in Stuff NZ:
Huka Lodge is New Zealand's quintessential super-lodge for the globe-trotting rich, royal and famous… Since 2001, all the guest rooms and the Owner's Cottage - the super suite perched on a rise overlooking the first set of rapids - have been rebuilt or refurbished with the difficult aim of combining the comfort of a five-star hotel with a boysy ruggedness befitting its fishing hut origins.
And the dining is exquisite. Hotel rates include pre-dinner cocktails, a five course dinner and breakfast. All meals are communal seating with some private dinning available.
---