Ocean Front vs Ocean View Room Descriptions
---
People are frequently confused over the terms "ocean view" versus "ocean front" as found in hotel room descriptions.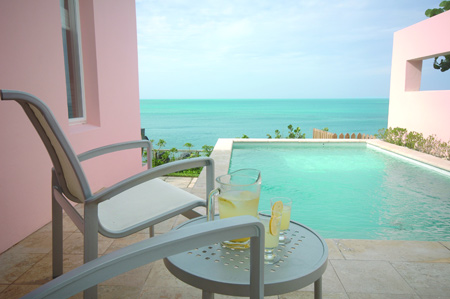 Most beach resorts will try to best describe the room views to make sure guests are fully informed. In the rate terms, oceanfront (Cambridge Beaches pictured at left) means that you will have the best possible ocean views from your windows and, if available, balcony. Your room will be directly facing the ocean - frontage views. Of course, ocean-front rooms are always the most expensive as well. But if your idea is to lay in bed and look out over the ocean, these are the rooms that will guarantee you that opportunity.
On the other hand oceanview rooms (Cambridge Beaches pictured) will have some possible view of the ocean - whether it is out certain window to the side, available at an angle, or seen from the side of your balcony.
Ocean-view usually guarantees at least a sliver of ocean will be seen from somewhere inside, or even directly outside, your room. If seeing the ocean is really important to you - then you definitely need to reserve an ocean front room to be on the safe side and get the best possible views.
---