Next Stop: Bushmans Kloof Wilderness Reserve and Retreat, South Africa
---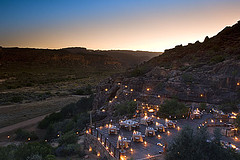 Escape to South Africa and discover "a world in one country": dramatic landscapes teeming with wildlife, caves etched with ancient rock art, a beautiful, timeless wilderness.
Bushmans Kloof Wilderness Reserve & Retreat
is a five-star ecological oasis, a stunning hideaway that happens to be a sanctuary for many endangered species of flora and fauna. (
It's hard to contain one's exuberance when writing about a property this extraordinary.
) Situated 270 kilometers from Cape Town, Bushmans Kloof is recognized as one of South Africa's Natural Heritage Sites. A proud member of
Relais & Chateaux
, the resort boasts an impressive list of accolades. Here you'll find luxurious guest rooms, a pampering spa, swimming pools, wilderness excursions and activities aplenty. Plus the dining is out-of-this-world.
Pictured: Imagine a breathtaking dining experience under the starlit sky
, where a traditional South African barbeque is served in a unique setting: an ancient, natural sandstone amphitheater of giant boulders overlooking time-worn cliffs and valleys.
PS. This time of year is simply magical. After the winter rains, an abundance of wildflowers dots the landscape.
---