New Winter Developments from Half Moon in Rose Hall Montego Bay, Jamaica
---
From Marcia McLaughlin, Public Relations Manager, Half Moon
Apart from the huge $2million dollar renovation of the Half Moon Golf Course (it is dubbed "one of the best walking courses in the Caribbean") which now boasts improved features for both the avid and casual golfer, Half Moon has two other winter developments.
#1. American Airlines now has non-stop service from Dallas/Ft. Worth to Montego Bay (cutting back even more on your excuses for not visiting).
American Airlines has launched its new non-stop service from Dallas/Ft. Worth to Montego Bay four times weekly; the service offers easy connections from the West Coast and feeder cities such as Salt Lake City, Los Angeles and more. This service now makes weekend getaways easier today than ever before and is just one of many ways vacation seekers across the globe can get to Montego Bay. More flight schedules to Montego Bay.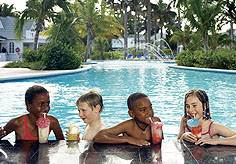 #2. Anancy Children's Village - themed after Jamaica's fabled children's character Anancy the Spider.
Anancy Children's Village

Children visiting the resort will enjoy the charming new Anancy Children's Village. Borrowing from the witty spider made famous in Jamaican folklore, the new children's play area has been modeled around a village concept with buildings ablaze with a mosaic of brightly coloured hues guaranteed to enlighten the senses of young visitors. Find Out More.
The Anancy Children's Village at Half Moon includes shaded play areas, activity rooms, a wading pool, sand box, expansive outdoor play area with each activity supervised by a well-trained coordinator.
A note to remember about Anancy's - they accept "only children that are fully potty trained aged 3 - 12. Families with children who are not potty trained can take advantage of our Nanny service and have nannies escort children to the Anancy Children's Village."
Have kids older then 12? Don't worry, there is also plenty for older children too including tennis clinics, volleyball, nature walks, golf, squash, horseback riding and water sports galore.
Half Moon, Official Site
Half Moon, Five Star Alliance
---

Related Hotels