New Luxury in Peru: Hotel Paracas and Tambo del Inca, Starwood Luxury Collection
---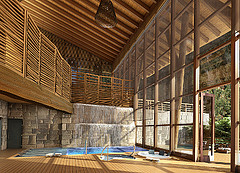 Two new hotels are upping the luxury quotient in Peru.
As reported by The New York Times In Transit blog
, the destination once firmly associated with backpackers is going upscale with the addition of two new properties from Starwood's Luxury Collection. The first, called
Hotel Paracas
, is located next to the Paracas Natural Reserve on the southern Pacific coast (chock full of marine life) and offers excursions to the Ballesta islands. Choose a Solarium Room at this spa resort and you'll be privy to jaw-dropping ocean views from two balconies. The second hotel, opening later this month, is the
Tambo del Inca
located in the Sacred Valley of the Incas, 15 km north of the city of Cusco. (Artist rendering is pictured at right.) Surrounded by the mythical landscapes of the Andes Mountains, the resort will even have its own train station for trips to the Inca hilltop city of Machu Picchu, just an hour away. The spa will feature therapeutic treatments incorporating ancestral Inca ingredients.
---