Musee du Quai Branly Opens in Paris
---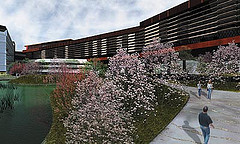 It took eleven years, and EUR 232 million, but at the June 20 inauguration of the new Musée du Quai Branly, the world's gaze settled on the hottest new museum in Paris. After all, the Musée du Quai Branly represents the crowning cultural achievement of Chirac's reign, who has sought to create a space honoring "the world's forgotten civilizations." Jean Nouvel's architectural masterpiece now houses the 270,000 items from the African, Oceanic and Asian artworks from the Musée de l'Homme and the Musée des Arts Africains et Océaniens (only 3,500 are on display.)
The building itself is extraordinary: a piece of contemporary art beneath the Eiffel Tower, situated on 19 acres of green, sprawling along the Seine. It is disjointed: a colorful mass of metal, with curved glass walls and no sense of symmetry. It is distinctly modern. Standing within the gardens, or in the ticket line beneath the building's metal overhang, you catch glimpses of the Eiffel Tower, which seems to rise directly from the museum itself.
And though the lines of tourists assemble outside the Louvre and the Musée d'Orsay in the summertime, the Musée du Quai Branly is a breeze. Upon entrance, visitors follow a long white ramp where a kaleidoscope of images is projected. Once you enter the Collections area, the light is dim, and the museum experience is an interactive one. You walk through a corridor lined with soft walls that are meant to be touched, called La Riviere, where indigenous stories and folklore are narrated for handicapped visitors. The museum is meant to be a place of ongoing exploration of anthropology and non-Western civilizations.
Hours: 10 am-6:30 pm, closed on Mondays. Tickets are EUR 8.50.
Related Articles,
New York Times, For a New Paris Museum, Jean Nouvel Creates His Own Rules
---