Milan's Hotel Principe di Savoia: Stay in the Suite Filmed in Sofia Coppola's "Somewhere"
---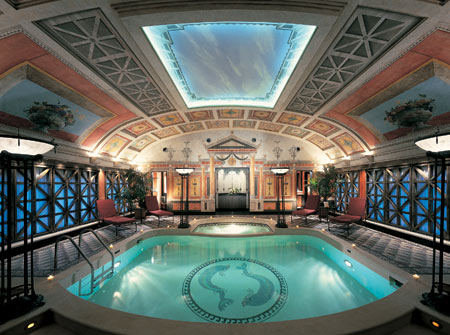 Hotels feature prominently in "Somewhere"-- the new film from director Sofia Coppola that won the top prize at the Venice Film Festival. (
NYT film critic A.O. Scott praises
the "exquisite, melancholy and formally audacious fourth feature" for its "power to refresh your perceptions and deepen your sympathies" without "raising its voice" or "pandering to your emotions.") How does life change for a hedonistic movie star who spends his days at the notorious Chateau Marmont when his 11-year-old daughter comes to stay with him?
Conde Nast Traveller (UK)
has tipped us off about one of the film's hotel settings, the Dorchester Collection's
The Principe di Savoia hotel
in Milan:
In the film, father and daughter spend time in the Presidential Suite at The Principe di Savoia. The suite, located on the panoramic 10th floor of the hotel, is over 500 square metres and consists of three bedrooms, including the sumptuous Presidential Room, a large and elegant dining room and a spacious living room featuring large windows that open onto a terrace with panoramic views of the city and, on a clear day, the distant snow-capped mountains. The film also features the Presidential Suite's impressive private spa...
---