Michelin Guide 2007: Restaurants in France
---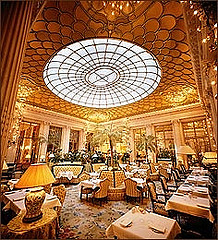 The winners have been announced. After much speculation,
Michelin
has come out with its latest crop of three-star restaurants in France, with a whopping five new restaurants added to the prestigious list. The total number of three-star restaurants is 26.
To quote the New York Times:
The new three-star establishments include three in Paris — Le Meurice in the Hôtel Meurice, Le Pré Catelan in the Bois de Boulogne, and Astrance, a tiny, 25-seat Right Bank restaurant — along with Lameloise in Burgundy and Pic in Valence, south of Lyon. Lameloise and Pic each regained third stars that were taken away several years ago; Pic's chef, Anne-Sophie Pic, is now one of only a handful of women ever to be in charge of a three-star kitchen.
But perhaps the most interesting announcement of all: the startling demotion of many top-tier restaurants to two stars, including Taillevent in Paris (bestowed three stars since 1973) and Le Cinq in the Four Seasons George V.
Related Articles:
---