Michelangelo Drawings at the British Museum, London
---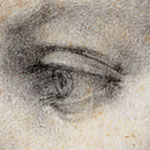 Now showing at the legendary British Museum in London: "Michelangelo Drawings: Closer to the Master." The exhibit showcases 90 works created over the 60 years of Michelangelo's life. These drawings-- from only 600 surviving works-- are extremely rare. As explained by the IHT:
Of Michelangelo (1475-1564), the 16th century art historian Giorgio Vasari wrote: "Just before his death, he burned a large number of his drawings, sketches and cartoons to prevent anyone from seeing the labors he endured… for fear that he might seem less than perfect." For Michelangelo, drawings were simple tools that could only be seen by his pupils.
Thus the importance of this exhibit. Museum open daily. Exhibit runs until June 25.
---