Malbec in Mendoza: Argentina's Cavas Wine Lodge
---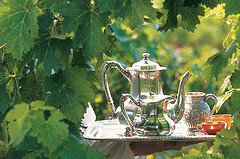 Wine-lovers rejoice; the seasonal grape harvest in the Southern Hemisphere is only just beginning. In Mendoza, Argentina, where the rolling fields of vines are set against a magnificent backdrop of the snow-capped Andes, the award-winning malbec and torrontes varietals are divine. Indulge in copious quantities at the wine-cellar at Cavas Wine Lodge, the region's hottest new hotel. The 14 free-standing guest rooms are spacious, with fireplace, private terrace, plunge pool and al fresco shower. Top-of-the-line technology includes entertainment centers, two-line phones and high-speed internet access. Soak up the breathtaking views by the outdoor pool, indulge in the restaurant's gastronomic delights, or relax with a superb spa treatment. And of course there are (lots of) glasses to be savored, overlooking the surrounding vineyards.
Related Articles:
The New York Times, "Peel Me a Grape"
Frommer's, "Embrace the Cold Shoulder Season in Chile and Argentina"
---