Make it Monte Carlo: Soaking up the Views at the Fairmont
---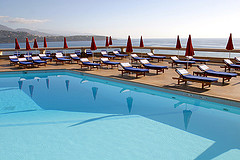 The tiny country of Monaco, the glamorous city-state nestled between Italy and France on the
Côte d'Azur
, is luxury incarnate. With over 300 days of sunshine per year, the Riviera is an enticing Mediterranean destination, and Monte Carlo is the prestigious choice for the globe-trotting elite. Take the
six-minute helicopter ride from the Nice airport
and arrive in style. (Plus, on the way you can take in all 500 acres of the Principality.) The place to stay is the
Fairmont Monte Carlo
, which unveiled a
EUR 42 million renovation
this spring. Built in the 70s, this enormous luxury hotel (619 rooms and suites) commands a remarkable location: built on piles over the water next to the Casino. It's like an island unto itself, floating over the Mediterranean, with
sweeping sea views from its rooftop terrace
and heated swimming pool. The Fairmont boasts three restaurants, two bars, 18 meetings rooms, a fitness center, shopping arcade, and in-house casino-- the first hotel in Monte Carlo to install its own. During the
Grand Prix
auto race in May, the
Formula One
cars rocket right under the hotel.
Book the Corner Suite for the Grand Prix and you'll see why it's the most highly prized room in town
for the race. On one side, views of the glittering sea, and on the other, the famous hairpin turn before the cars zoom into a tunnel beneath the hotel.
---