Luxury Travel Trends: The Best Airport Hotels
---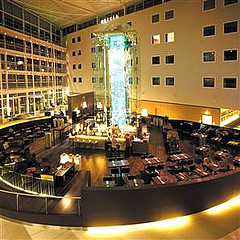 Kiss goodbye the era of lousy overnights at airport hotels. The latest trend,
as detailed in Forbes Traveler
, is a spectacular array of posh properties at airports around the world. In 2007, the industry pumped millions into capital investment for luxury airport hotels. Case in point: the swanky
Radisson SAS
which opened at London Stansted Airport, home to the business class-only airlines
Eos
and
MaxJet
. Road warriors will find four restaurants, excellently-appointed guest rooms, and full meeting and fitness facilities. The best part of all? "The 13-meter-high wine tower which holds 4,000 bottles of wine obtained each evening by 'wine angels' who fly on cables to retrieve your choice." For the full list of exciting airport hotels, check out
ForbesTraveler's slide show
.
---