Luxury in Africa: Sasakwa Lodge, Grumeti Reserves, Tanzania
---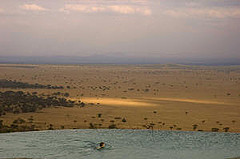 Among the fascinating destinations featured in the Fall issue of the New York Times Style Magazine: Travel, the ultra-exclusive game reserve in Tanzania's Serengeti intrigues because of the complexities and contrasts of modern-day Africa at its doorstep. Here lucky guests witness the spectacular seasonal migration of millions of wildebeest across the savannah while experiencing the exquisite luxury of one of the finest game lodges in Africa. The Grumeti Reserves is a 346,000-acre safari reserve, almost "a private extension of Serengeti National Park," its protected land a corridor right in the path of the great migration.
In the midst of all this is Sasakwa Lodge, a cluster of elegant colonial cottages with a spa and equestrian center on Sasakwa Hill. At $1,500 a night (part of which goes to the government as "hunting" revenue), Sasakwa is one of the most luxurious resorts in Africa.
At Sasakwa, each of the seven air-conditioned cottages is situated within the privacy of a beautifully landscaped garden, with heated infinity plunge pools, lounge, and spacious bedroom. This is the flagship of the Grumeti lodges, set high above the savannah, an elegant space of long, sweeping verandahs and classy lounges brimming with antiques.
---