Luxury Flying with Singapore Airlines Boeing 777-300ER
---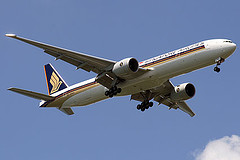 In an era of premium air travel for the uber-rich, the likes of which has never been seen before,
Singapore Airlines
proves itself a trendsetter with the launch of its new fleet of Boeing 777-300ER's.
As described by ABC News
, the "Orient Express of the skies" makes the 20-hour flights seem short:
For a mere $10,000, first class airline passengers can now rest their champagne glasses on mahogany tables as they hunker down in Givenchy sleep suits in 30-inch leather seats that turn into cozy beds.
This is luxury flying at its finest, with the world's widest First and Business Class seats, enhanced personal space, awesome entertainment systems, and tempting cuisine. In addition, Singapore Airlines is scheduled to launch its new 555-seat Airbus 380 in October, which will boast a bar on each deck.
---