Luxury Boutique Hotels in Shanghai
---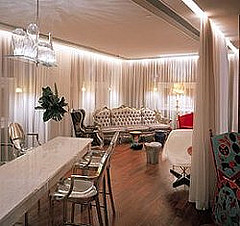 The trend for cutting-edge boutique hotels is catching on in major metropolises across Asia.
As recently featured by Newsweek International
, these cool hotels are "popping up in Asia's more cosmopolitan cities faster than construction cranes." In recent years Hong Kong and Singapore have paved the way with a slew of intimate design hotels, but now Shanghai is also getting its share of hip boutiques. Opening within months of each other, these new luxury hotels include the 30-room Mansion Hotel, a renovated French villa-style manor which "evokes the swinging Shanghai of the 1920s", and M Suites, which has a "sleeker, more contemporary feel." But perhaps the most exciting news of all: the sexy, Philippe Starck-designed
Jia Hotel in Hong Kong
is branching out to two new locations: Krabi, Thailand and Shanghai.
---