Luxury Airline Eos Offers Reduced Fare and Money Back Guarantee
---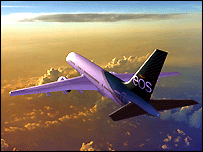 As if you needed (yet) another reason to fly the best transatlantic luxury airline in business (besides complimentary car service from London Stansted, the rad frequent flyer program, boutique catering on a 48-seat aircraft designed to transport 5x that number of passengers....) The folks at Eos are so convinced that you'll agree, they're now offering a money-back guarantee for business class flyers of British Airways and Virgin Atlantic. Get a load of this:
Maybe you think you're flying the best business class to London. But we're willing to bet you're wrong. Our all-premium class airline is designed to be better. And if after flying with us you disagree, we will give you your money back.
Book by April 12, and as a first-timer, you'll also get a special reduced fare: $3,500 or GBP 2,000. Did I mention that this fare includes free car service and a "refresher room" for London arrivals? And if it doesn't add up, rest easy: you'll get a full refund.
---

Related Hotels