Lunar Spa Treatments at the Capella Singapore's Auriga Spa
---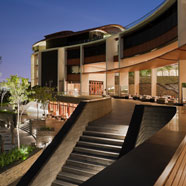 The
Capella Singapore's
Auriga Spa and Fitness Center
offers a unique twist on relaxation treatments by adding four services with a celestial approach to wellness that are based on the cycles of the moon. Choices from these signature treatments include the following and are only offered during the corresponding lunar phase:
• New Moon: The Beginning - Treatments during the new moon stage will focus on stimulating and awakening the body.
• Waxing Moon: Sowing the Seeds -The waxing phase is the time to "sow the seeds" and nourish the body.
• The Full Moon: This lunar phase brings one to the height of his or her potential and treatments during this phase incorporate pink roses to signify balance and the realization of full potential.
• Waning Moon: Cleansing - The waning moon signals a time to cleanse the body and spirit to stimulate the elimination of body toxins.
Along with these distinctive services guests can also enjoy a range of traditional Asian therapies scrubs and wraps for an out of body experience while enjoying world class accommodations and amenities offered at the Capella Singapore.
---