Love on the Banks of the Seine
---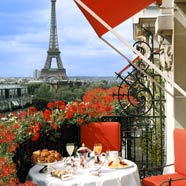 There are two things I value above all else: Luxury and Romance. Finding each individually is hard enough, but finding them together is nearly impossible. So I did what most people do when they are looking for something. I googled it. I entered simply, "Romantic Luxury Getaways", and let the computer do the work for me. And I implore you to do the same. Go ahead, I'll wait right here until you return. Don't worry, it won't spoil the ending…
Back yet? Okay, what did we both find? First, it was some of the great hotels of the world. And amongst them, of course, the city that appeared again and again: Paris, France. Not Paris, Texas, nor Paris, Arkansas, both of which I've visited and can say are truly unromantic. Paris, France, on the other hand, is, cliché or not, simply the most romantic city in the world. Luckily for us, it also offers some of the most luxurious hotels in the world.
Before I get into that, and therefore before I list which of Paris' finest are my favorites, I want to tell you why Paris is romantic. You may now be grumbling about your last visit, or maybe your last 5 visits, and how you know very well what is and is not true about la belle ville. I've been several times myself in the last few years, and in fact lived two years in Paris on the Left Bank in my marauding early-20s. And yes, while I have the advantage of ordering a Domaine Romanée-Conti in heavily accented French, I've learned that in Paris anyone can find romance.
Where? I found it on the terrace of a café in an alley at a hole-in-the-wall Moroccan restaurant that no longer exists. The place was run down, the couscous overcooked, and yet when I raised a glass of Burgundy and toasted with the sweet, brown-eyed girl underneath a canopy of stars illuminating the French summer night, I didn't want to be anywhere else in the world. Months later, a ring tucked deep in my pocket, I strolled down to the banks of the Seine, heard the muted stir of the river below, and found myself on one knee asking her to be with me forever. We returned for our honeymoon, and several trips thereafter, and Paris never let us down. The gray hair on my temples has never kept the romance at bay, and I still raise a toast with the brown-eyed girl on the other side of the table.
Now, though, when I go to the world's most romantic city, I stay at the world's most luxurious hotels. And why not? Luxury and romance go hand in hand, just as my hand goes with hers each and every morning when I wake up, and just as our lips come together each evening to say goodnight.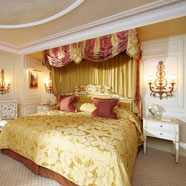 So make romance yours at L'Hotel de Crillon. This hotel is not for the overnight traveler. In fact, the pre-revolutionary construction is in classic Louis XV style, and will tantalize patrons with a stunning location only steps from Les Champs-Elysees, and make a stay of any length too short.
If you're looking for a taste of the Belle Époque, seek out the Ritz Paris. Erected in 1898, the Ritz underwent a stunning renovation in 2010, and is known for its famous guests, more recently (Elton John) and a few years ago (Marcel Proust).
Finally, if you prefer views of the Eiffel tower from your flower-filled balcony, charm your loved one with a stay at the Hotel Plaza Athenee. Luxury is a given, romance an absolute, and with four restaurants on site overseen by the eminent Alain Ducasse, you'll have the best of Parisian dining just steps away.
One final note: If you're thinking of buying her that ring, or perhaps telling him that you love him all the more after all these years, don't wait! Seize the moment! Paris may endure and always be waiting, but perhaps he or she won't. Bon voyage!
---