London's Claridge's Goes Green, Wins Bronze
---
Congratulations to
Claridge's
! London's ultra-swanky hotel has won the Green Tourism of London Bronze Award 2009.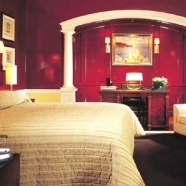 Claridge's
has pioneered introducing organic and free range chicken on the menu as well as an organic breakfast option. Meals are also closely linked to seasonal foods and there are plans to refurbish the kitchens with the latest efficient and eco-friendly equipment.
Claridge's
is demonstrating significant progress in reducing impacts through the whole range of its products and services through the development of its internal team.
Green Tourism for London was launched a year ago by the London Development Agency, supported by Visit London. It provides hands on advice to London's tourism businesses to help them go green. The Mayor of London, Boris Johnson, said "It is absolutely fantastic to see that some of London's top tourist attractions are leading the way in going green, and helping the capital to meet a 60 per cent cut in carbon emissions by 2025 - well done to them. Becoming more energy efficient is a win-win for these businesses as it both saves money on bills and attracts a growing army of customers who are keen to spend money in places that are helping to protect our environment."
---