Les Ambassadeurs Means More Rewards for Hotel de Crillon
---
From Pascale Adoner, Director of Sales and Marketing, Hotel de Crillon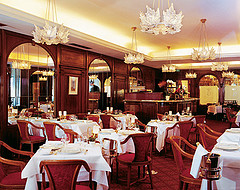 Whether you live in Paris or are just visiting, there are two great reasons to visit the Hotel de Crillon's restaurant Les Ambassadeurs.
First? Lunchtime.
The restaurant Les Ambassadeurs proposes a menu particularly adapted to those who seek an elegant place to organize their business lunches. Based on a choice of two entries, two dishes and two desserts, the tasting is accompanied by mineral water, matching wines chosen by the sommelier and coffee. The menu is all inclusive: 100 euros. Lunch served from Tuesday to Friday, from noon to 2pm.
Wanna set it up? Your privileged contact: Patrice Willems, phone: +33 1 44 71 16 16 or through e-mail at ambassadeurs@crillon.com.
The second reason to visit Les Ambassadeurs even if you are living in Paris or staying somewhere else (which we don't recommend), is because this restaurant is winning all of the awards.
Soon after the Michelin Guide and the Pudlo Guide Paris 2006, the Bottin Gourmand awards the Ambassadeurs. In February 2005, the gastronomic restaurant the Ambassadeurs obtains a second star with the Michelin Guide. This new 2005 edition of the Guide awards the hard work of Jean Francois Piege and his team just one year after his arrival in the kitchens of the Hotel de Crillon. Les Ambassadeurs is one of the three Parisian restaurant to have been awarded with a second star and one of the 15 Parisian establishments to be 2-starred.

In October 2005, the Pudlo Guide Paris 2006 also awards the Ambassadeurs and more specifically Jean Francois Piege as it distinguishes him as Chef of the Year. The launch of the Pudlo Guide Paris 2006 was a real event on October 24th in the Ambassadeurs and the Jardin d'Hiver.

And on November 15th, the famous gastronomic guide the Bottin Gourmand awards the Ambassadeurs with the best note possible being 4 stars.
Almost seems worth a trip to Paris just for one lunch at the Hotel de Crillon ...
Hotel de Crillon, Official Site
Hotel de Crillon, Five Star Alliance
---

Related Hotels