Journey Through Bhutan with Uma Paro Hotel
---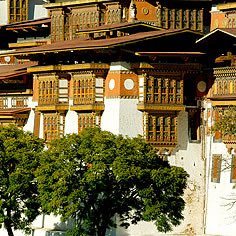 Bhutan's been in the news a lot these days. Called the "Land of the Thunder Dragon," this Buddhist Himalayan kingdom recently held its first democratic elections. Right now Bhutan is the focus of the
2008 Smithsonian Folklife Festival
on the mall in Washington D.C., and has become the destination of choice for adventurous travelers looking to discover off-the-map spots. Closed to the outside world for centuries, Bhutan has tremendous natural and cultural riches waiting to be explored.
Uma Paro
, the 29-room luxury hotel opened by COMO Hotels and Resorts in late 2004, is offering
a spectacular adventure: The Central and Western Bhutan Journey and Bumdra Camp.
From August 28-September 7, 2008, a small group will venture out on a 10-night inclusive adventure in the Dragon Kingdom, which brings together the very best of
Uma Paro's
most popular experiences in one itinerary. Led by one of Uma Paro's experienced, English-speaking guides, the group will enjoy
tours and day hikes and witness some of the most dramatic scenery on earth. The highlight will be a one-night camping trek high above the famous Tiger's Nest monastery.
Available from $4,068 per person (single occupancy) including full board, transfers, government fees, taxes and royalties. You'll also get a 1 hour daily yoga class while at Uma Paro, and complimentary use of the pool and gym.
---