Job of the Summer: Apply Sunscreen to Beach-Bathers in France
---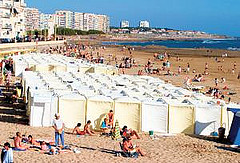 We
recently called your attention
to the unusual job opening at the
Ritz-Carlton South Beach
: a tanning butler to apply sunscreen or tanning oil to guests laying out by the pool. Now we've received word about a similar job-- two "creamers" who'll hang out on the beach at Sables-d'Olonne in western France-- and there's been a lot of Internet buzz about this one. The task for these two youngsters? Rubbing tanning lotion into the backs of beach loungers during the prime summer months of July and August. Salary? €5,000.
As The Independent (UK)
reports:
Applicants have until 26 May to send in a CV and a 45-second video in which they explain, or demonstrate, why they are ideal for the job. The two successful candidates will earn €850 (£745) a week for six weeks, from 10 July to 22 August – just more than €5,000 (£4,400).

The resort has a record of clever publicity stunts. Last year, it launched something called "l'aspirateur à nuages" – the cloud hoover. The town made a promise, which has been renewed this year, that any holidaymaker could cancel a booking up to 48 hours in advance if the weather forecast turned bad.

The French resort's sun-cream stunt is the latest example of "dream jobs" being used for promotional purposes. Queensland's tourism authorities were the first to try such a scheme with a "caretaker" posting on a remote island in the Great Barrier Reef, described as "the best job in the world".
---