Jeffersons Private Jet Holidays
---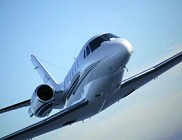 A recent article in the Times UK focused our attention on Jeffersons Private Jet Holidays:
And since the demise of Concorde, private jet travel has grown apace, and prices have tumbled. The tour operator Jeffersons specialises in holidays by private jet, and four people sharing a plane can have, for example, two nights at the Four Seasons in Milan starting at a little over GBP 2,000pp.

I sampled a Jeffersons trip to Italy last month, and what made it special was not so much the caviar and champagne on board the jet, or the wonderful hotel, Villa Feltrinelli, where we stayed on Lake Garda, but the sheer lack of stress. Stuck in roadworks on the M1? The plane will wait for you. Fancy bringing back two cases of Italian wine? They'll load it on to the jet, and then drive you home with it in a limo.
Sign me up! In its fleet, Jeffersons features the Premier 1, Cessna Citation Excel, and Hawker 125-800, and all jets are outfitted with ample space, luxurious furnishings, chilled champagne, soft drinks, and meals. And with Jeffersons, you'll fly to Europe's most luxurious and exclusive hotels.
---