Hyatt Launches Andaz Hotels with London Liverpool Location
---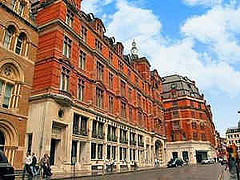 Announcing the latest brand from Hyatt Hotels:
ANdAZ
. Taking its name from an
Urdu word that means 'personal style'
, the new collection of luxury boutique hotels is hoping to attract youthful, affluent travelers. True to form,
the Web site
is lively, and promises a "young at heart" and "environmentally conscious" hotel experience.
Created in response to travellers' needs for an experience that blends style with uncompromised service, ANdAZ focuses on a personal attention to detail and a freedom from conventional hotel wisdom. A renewal of the highest quality standards, and the delivery of simple luxuries.
The brand's first location opens in London on Friday. Housed in the former Great Eastern Hotel, the red brick Victorian building constructed in 1884 by the Great Eastern railway company, the ANdAZ is right next to Liverpool station. The 236-room hotel is all about casual luxury. Instead of a lobby with a check-in counter and concierge desk, there's a sleek modern "living room," where guests check in with personal hosts who carry tablet PCs. Rooms are decked out with ergonomically designed furniture and iPods with locally selected playlists. Also on the premises: five restaurants and four bars. Room rates start at GBP 395 per weekday night, and GBP 120 on weekend nights, including breakfast, Internet, local calls, mini-bar, laundry and pressing, and movies. Coming soon: ANdAZ hotels in New York (75 Wall Street and 485 Fifth Avenue) and Austin, Texas.
---