Hot Tables: Thierry Marx's Chateau Cordeillan-Bages, Pauillac, France
---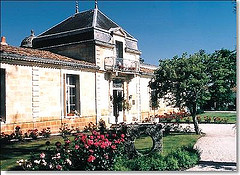 Surrounded by the finest wine-making chateaux in the world, this converted 17th century monastery is now home to a small hotel and Thierry Marx's inspired restaurant. (Of course the star chef's creative cuisine is paired with the best Bordeaux grand crus from the Medoc region.) Named "Chef of the Year" by GaultMillau, Thierry Marx is one of the finest, cutting-edge chefs of the day. A recent review in the International Herald Tribune describes his food as intensely creative, and thus "not for everyone":
Look at the titles of some of his dishes and you simply may want to run the other way. Liquid quiche Lorraine? Virtual sausage? Bean sprout risotto? Sweetbread spaghetti? Wacky, yes. But Marx is not taking food to another level of perfection or enjoyment, but to a different level. Food such as his makes us look at taste in a new way.

In my book, none of this would be any good if the food did not offer pleasure as well as amusement, shock as well as satisfaction. And it does. Most of the time.

For me, the most satisfying, surprising and enjoyable dish of some 15 little tastes was his smoked Aquitaine beef. Marx sears the filet quickly, slices it, then sets the beef on a miniature hibachi set above burning Merlot vine clippings. All of that is wrapped in clear thick plastic, tied with ribbon and paraded to the table. As the wait staff unwraps your dinner gift, light, delicate, pleasing smoky aromas waft through the room. The end result is a meat that is juicy, delicate, sweet and oh-so-gently smoked, a dish created with a stroke of genius.
Bring it on.
---

Related Hotels