Hot Spots in Singapore: All About Martinis at the Fullerton Hotel's Post Bar
---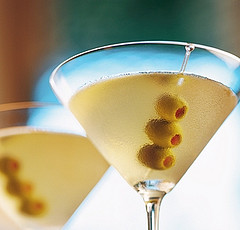 The Fullerton's
Post Bar
is so popular, they opened a branch in Changi Airport's Terminal 3. Outfitted with sleek designer furniture where the world's longest postal counter once stood,
The Post Bar
has attracted a devoted (and decidedly chic) clientele of trendsetters and corporate types over the years. Located at
The Fullerton Hotel
, Singapore's historic landmark, the bar offers a range of signature cocktails, including an extensive martini menu (with 20 different choices). The most popular? The Lychee Martini-- though the French Martini, blending cassis and pineapple juice, and the Poohtini, made with apple sour and honey, have a lot of fans, too.
---