Hot Eats in Paris: Mini Palais in the Grand Palais
---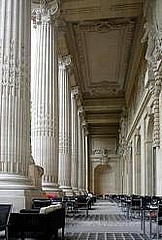 This summer, a trendy new restaurant opened its doors in a
wing of the Grand Palais
. And it's branded
MINI
-- as in, like, um,
the car
. Sprawling under the arcade's columns, the restaurant is all about paradox, starting with the name. During the weekends, a DJ spins trendy tracks which vibrate through the classic colonnade.
"Mini palais, maxi chic,"
the restaurant features innovative small plates and lighter fare from star chef
Gilles Choukroun
(of Michelin-starred
Angl'Opera Restaurant
). Inside, you'll find Baccarat light fixtures and a cool, loungy vibe.
AdAge explains that the MINI branding
is subtle: the neon sign in the lobby, the MINI logo on the menu and on the black t-shirts worn by staff, and a couple of Union Jacks emblazoned behind the bar.
---