Hot Deals: Winter Madness and Airfare Specials to Iceland
---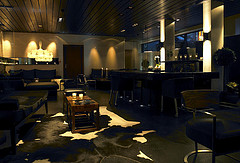 And you thought our economic woes were bad. Iceland's economy has tanked. The Icelandic Krona has dropped dramatically against the US Dollar, making the country once known for its exorbitant prices a top bargain destination for travelers. Now is the time to grab an insanely priced ticket on
Icelandair
(try $399 per person
roundtrip
).
We've raved about Reykjavik's CenterHotel Thingholt
-- from where you can enjoy the capital's hot party scene, and take off to experience the famous landscapes of glaciers, hot springs, geysers, and volcanoes. But the
Hotel 101
is just as popular.
The New York Times points out that this luxurious hotel is almost half off.
Caveat: Bring plenty of cash. It's rumored that the ATMs are on the fritz.
---