Healthy Travel with COMO Hotels & Resorts: Metropolitan Bangkok
---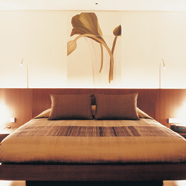 According to some estimates, the average traveler taking a two week vacation gains 3.2 pounds. The temptation for over indulgence while on holiday is often part of the experience for many people. Yet those indulgences don't have to come at the cost of your health. One such example is the healthy travel option at
The Metropolitan Bangkok
, a member of the COMO Hotels & Resorts chain. The exquisite Glow Restaurant on site offers COMO Shambhala Cuisine, renowned for maximizing energy and improving overall well-being. With an emphasis on raw and organic foods that offer a range of nutrients and enzymes,
The Metropolitan Bangkok
can make your next vacation a healthy one.
Follow Five Star Alliance on Twitter!
---