Hayman Island Resort Celebrates Earth Day 2007
---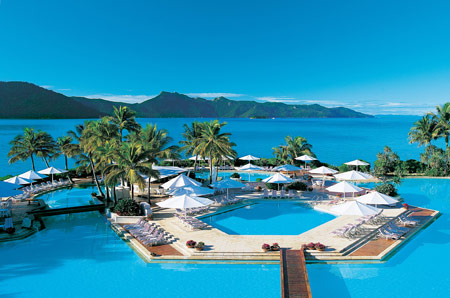 In celebration of
Earth Day
, the
Hayman Island Resort
will be featured on ABC News broadcasts this weekend to report on significant environmental programs in Australia and the Reef. Located on the southwestern side of Hayman Island just beside the Great Barrier Reef,
Hayman
boasts an idyllic setting surrounded by coral fringed beaches and the lapping waters of the Coral Sea. The resort's website offers a dedicated page -
Hayman.com.au/planetearth
- to recognize the resort's involvement with ABC News and the "
Planet Earth 2007: Seven Ways to Help Save the World
" program.
The spotlight is on Hayman because of their direct involvement in the preservation of the Great Barrier Reef through a series of projects with the Great Barrier Reef Foundation. The report will also show ways in which desalination plants, such as the one operating on Hayman, may be the answer to water shortages. Tune in to ABC's 20/20, Nightline or Good Morning America on Friday and Saturday of this week to watch the Hayman Island Resort interviews Live.
PS - In recognition of Hayman's involvement with ABC News, guests can benefit with the Hayman has also introduced the "ALL INCLUSIVE HOLIDAY- Hayman Planet Earth 2007 Escape" which includes 3 nights, full breakfast, a la carte 3-course dinner, and numerous Island activities. The 3-night package is priced from AU$1485 per person, and is valid through 20 December 2007.
---