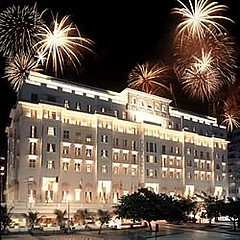 Wishing you a happy new year from all of us at The Informed Traveler and Five Star Alliance. And tonight, we'll be enjoying one extra second because-- as the New York Times points out-- "the international authorities charged with keeping precise time will add a single second to our lives," the 24th "leap second" since 1972:
If that doesn't sound like a big deal, consider that in one second a cheetah can dash 34 yards, a telephone signal can travel 100,000 miles, a hummingbird can beat its wings 70 times, and eight million of your blood cells can die. As the saying goes, every second counts. In the case of leap seconds, that is especially true. Leap seconds are needed to reconcile two very different ways of measuring time.
PS. Missed the fabulous celebrations in Rio (pictured at right)? You can still hit up Carnival at the Copacabana Palace, an "extraordinary visual and audio extravaganza."
---