Giant 4-Foot Wedding Cake Unveiled in London to Fete the Royal Wedding
---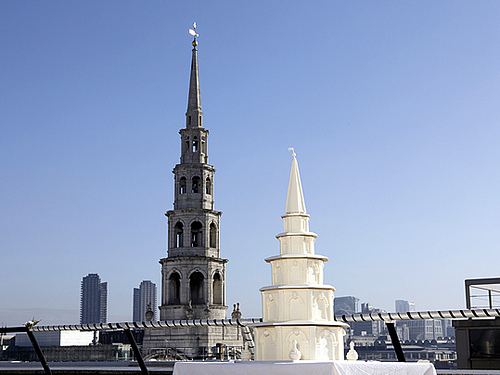 From
themed Afternoon Teas
to commemorative tea bags and postage stamps, London is getting in the mood for the upcoming Royal Wedding of Prince William and Kate Middleton.
Visit London
-- the official tourism organization for the capital-- recently unveiled a giant 4-foot wedding cake, a lovely replica of the famous St. Bride's Church on Fleet Street-- the actual, real-life inspiration for the traditional tiered wedding cake enjoyed around the world today!
Visit London describes their recent feat
:
Back in the 18th century, London-based baker's apprentice Thomas Rich wanted to create something special for his wedding day so, taking the tall spire and steeple of St Bride's Church as a model, he came up with the idea for a tiered cake. This cake was provided by Sophisticake (who made the wedding cake for HRH Prince Charles and the Duchess of Cornwall). It was created using a medieval recipe which required a whopping 200 eggs, 120lb (54kg) of dried fruit and 18lb (8kg) of butter! The cake will be donated to St Bride's Church to share with its parish and support their charitable causes.
Thinking about flying to London for the Royal Wedding on April 29, 2011? Hotels are not yet sold out. Browse our collection of Four- and Five-Star hotels and take your pick...
---