G'day Governor: W London — Leicester Square Opens
---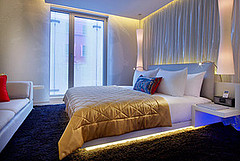 W Hotels Worldwide has opened its newest flagship hotel,
W London — Leicester Square
, the impossibly chic and slightly futuristic property set in the epicenter of London's entertainment scene.
The hotel features 192 guest rooms, including 17 suites, three WOW suites and one Extreme WOW suite headed up by Dutchman Rob Wagemans of Amsterdam-based Concrete Architectural Associates, while the exterior, structural work was helmed by McAleer & Rushe Group and renown London architects at Jestico + Whiles.
Drawing influence from the surrounding streets, Jestico + Whiles – winners of this year's European Hotel Design Award – have created the hotel in a muted palette of white Portland Stone, stucco and filigree lit up by an extensive system of jewel-bright LED lights, flickering and pulsing as night begins to fall.
Rumor has it the intensity of the lights, their hues, opacity and pattern all depend on the season, the pedestrian traffic and the time of night.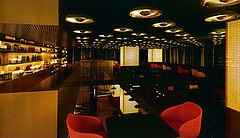 Be sure to check out celebrity chef Jean-Georges Vongerichten's new restaurant, Spice Market, inspired by the "vibrant street life of South East Asia," offering not-for-the-faint-of-heart cuisine, highlighting spicy exotic curries echoing Vietnamese street markets and Thai food stalls.
---