For Sale: Medieval French Prison To Become Luxe Hotel, Avignon
---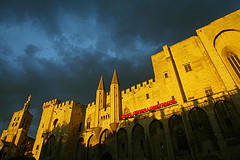 200-room property with
"exceptional location next to the Papal Palace" overlooking the river Rhône.
10,280 square meters of living space, including cells and "women's detention area." Must be turned into luxury hotel. Interested? Submit your bid by January 23, 2008. And we thought
Boston's Liberty Hotel
was unique. The French government has decided to sell off this dilapidated state-owned property to a hotel group willing to convert it into an 110-room luxury hotel. If Sarkozy's plan works, Sainte-Anne's prison will be the first of eight unused jails to go on the market.
---