Florence: A Reason to Return
---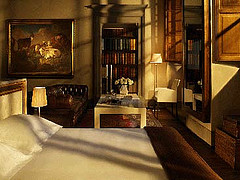 If you're trying to give yourself a reason to return to Florence, we may just have the answer.
Il Salviatino
, a 15th-century villa in nearby Firesole, is opening this May as a luxury hotel. More than 15 million euros were spent on restoring this noble landmark, which was once the playground of aristocrats. Here, history is being preserved; all of the hotel's 19th-century frescoes, huge marble fireplaces and ancient mosaics are being carefully preserved and refreshened.
When it's all ready to debut, the villa, which is set on 11-and-a-half acres of gardens and parkland, will have 58 rooms. A selection of suites will offer mezzanine floors, optimizing the dramatic high ceilings of the main house. Hillside suites, nestled into the garden areas, will provide private conservatories, sunken baths and Tuscan views. The villa's penthouse suite will offer multi-level living space with
an outdoor plunge pool and a private rooftop terrace with dazzling views of Fiesole and Florence.
A holistic day spa will have a menu of ancient Eastern practices that will be performed by skilled Thai therapists. The spa will include a year-round heated and partially covered pool, a fitness center and a restaurant, which together will operate as a hotel facility, plus
 a private club for locals. No worries, though; there will also be another pool, reserved for guests only. Il Salviatino will also have a gourmet al fresco restaurant.
---