First a Tourist Spaceship, Now an Underwater Plane: The Latest from Richard Branson
---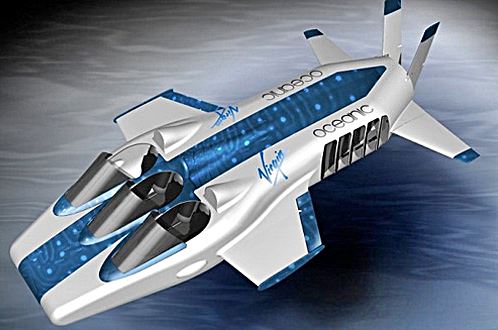 Back in December,
we reported
on Virgin Galactic's tourist spaceship, a pet project of Sir Richard Branson's. Come 2011, travelers will be able to zoom through outer space for $200K. Next up for the business mogul? "A first-of-its-kind underwater plane." Virgin Limited Edition made the announcement about Branson's big purchase this week. An engineering marvel, the vessel can undertake underseas flights, moving through the water as if it were air.
Here's the word from ABC News
:
The "aero submarine" -- Branson's is named the Necker Nymph -- can dive to a depth of about 130 feet below the water's surface, carrying two passengers and a pilot. The three-person submersible will be delivered later this month to Branson's private Caribbean resort, Necker Island, and will be anchored to the deck of Branson's luxury catamaran, the Necker Belle. For guests who spend $88,000 to rent the high-end yacht for one week, the Necker Nymph can be hired out for an equally princely sum -- $25,000 per week.
---