Featured Destinations: Antigua, Guatemala
---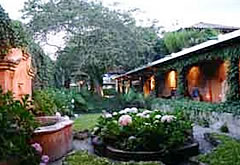 Cobble-stone streets, graceful colonial churches, pastel facades, flowering courtyards: Antigua is almost too picturesque. A stroll through the streets is to wander through time-- in a perfectly preserved Spanish colonial city. Framed by volcanoes, Antigua offers cute restaurants and bars, historical attractions a-plenty and a glimpse (albeit touristy) at traditional Mayan culture.
And while exploring the colorful local markets (intoxicatingly full of inexpensive fabrics, handbags, clothes, you name it…) forget that buyer's remorse! What a better way to help the local economy, recently ravaged by Hurricane Stan.
Where to stay? Follow the presidents and movie stars to Casa Santo Domingo, housed in a former historic convent, now draped in bougainvillea and heaps of charm. Senator Hilary Clinton glowed, "Thank you for your warm and gracious hospitality in beautiful Casa Santo Domingo, a unique blend of the old and the new, I hope to return." Any place that the Clintons and Oscar de la Renta rave about-- is bound to be a good hideaway.
For an adventure (and a really good scare), take a hike up the (active) Volcano Pacaya. I doubt the tourist police in the US would allow visitors this close to sputtering volcanic ash and flaming red lava. Trips depart twice daily in the wee AM hours or early afternoon.
Casa Santo Domingo, Official Site
---