Fairmont Gold Villas for Fairmont's Scottsdale Princess Resort
---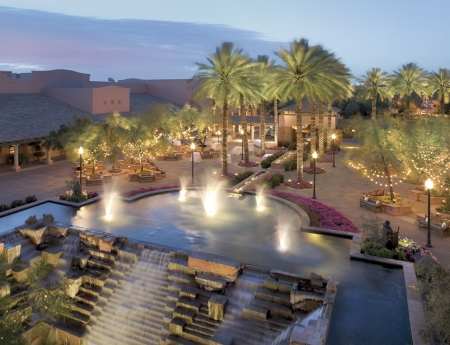 Scheduled to debut on March 1, 2008, Fairmont has spent over $6.5 million dollars creating their "hotel within a hotel" - the Fairmont Gold Section - at the
Fairmont Scottsdale Princess
. What was formerly 72 villas will become the new, renovated Gold Section of the golf and spa resort featuring 69 villas, a separate entry, lobby, check-in and out, concierges and upgraded rooms from the rest of the 650 room hotel.
For an additional $125-$150 a night over the standard resort rates, guests in the Gold Section Villas enjoy golf course views and having all of their needs covered - from a leisurely breakfast, to afternoon tea or evening refreshments from the honor bar.
Although scheduled for a March 1st debut, Fairmont Scottsdale Princess' General Manager, Mr. Robert Foster told the East Valley Tribune that many of the completed villas are ready and reserved for top-level FBR Open and Super Bowl XLII guests prior to any official opening.
Learn more about the Fairmont Gold program here >
---