Exclusive Introductory Offer: Rocco Forte's Verdura Golf and Spa Resort Opens on Sicily
---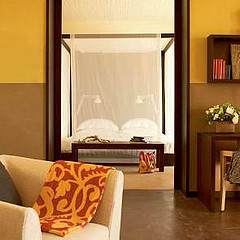 It's finally here.
We've been anticipating
the first luxury resort from the
Rocco Forte Collection
for years now. Known for their high levels of service and distinctive personalities, the group's luxury hotels are located in 13 key European destinations. Now Sicily is in for a treat; never has the island-- in all its ancient history at the crossroads of civilizations-- seen such a stylish and cutting-edge resort hideaway. Surrounded by dramatic scenery (where the mountains rise from the turquoise sea),
Verdura Golf and Spa Resort
is located near Agrigento and the Valley of the Temples. The estate is huge: sprawling across 570 acres on a mile of private coastline. Architect Flavio Albanese designed the property with traditional materials- like volcanic rock and timber- in a contemporary way to blend in with the landscape. The goal? To be "the only luxury resort in the Mediterranean offering a five-star experience across golf, hotel, dining and spa facilities." What we're most excited about? The 60-meter two-tiered pool that's supposed to be one of Europe's largest, the Gelateria, serving home-made ice cream, and the sophisticated spa offering treatments with local ingredients: Sicilian seawater, extracts from lemons and oranges. Needless to say, there is a helicopter landing pad onsite.
Hot Deal: Get complimentary dinner every evening, unlimited green fees, and spa treatments with the "Exclusive Introductory Offer," available from August 1- December 31, 2009.
---