Europe's Top Festivals: Celebrate the Carnival of Basel at the Hotel Les Trois Rois
---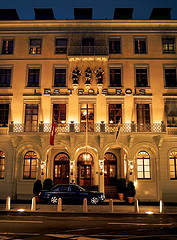 Don't miss the Carnival of Basel (
Basler Fasnacht
), beginning on the Monday after Ash Wednesday (February 25, 2009) at 4 a.m. This is the biggest carnival in Switzerland, and you're guaranteed to have a rip-roaring good time with costumes and merriment galore. Taking over the entire city, the Carnival lasts for exactly 72 hours, "die drey scheenschte Dääg" (the three most beautiful days). The swanky
Hotel Les Trois Rois
, one of Europe's oldest city hotels boasting a privileged position in the heart of Basel's beautiful Old Town on the banks of the Rhine, has put together a package so that you can get close to the action for the Basel Carnival. The concierge will let you in on when and where to find the best carnival music concerts, the procession and the "Schnitzelbänken" -- satirical entertainment. Priced from CHF 810,
the Carnival Package
includes two nights in a luxurious room or suite, daily breakfast buffet or continental breakfast in your room, Morgestraich breakfast (traditional fortification early on Monday morning before the start of the three-day party), a golden "Blaggedde" (carnival badge), a Mobility ticket (free use of Basel public transport), and use of sauna and fitness room. Available March 1- 3, 2009.
---